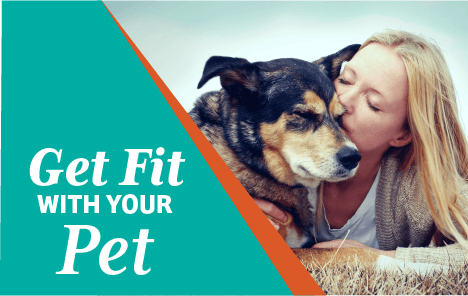 Get Fit with Your Pet
Losing weight or getting in shape seems to be on just about everybody's New Year's resolution list—and if it's on yours, you may already have a great workout partner: your dog!
Just like humans, overweight pets are more likely to develop diabetes, osteoarthritis, high blood pressure, heart disease, joint injuries, and cancer. According to the Association for Pet Obesity Prevention, 59% of cats and 54% of dogs in the U.S. are overweight.
A nutrition-rich diet is your pet's first line of defense and a cornerstone of preventive care. Proper daily nutrition will go a long way toward keeping your pet healthy by bolstering the immune system and supporting normal development in younger animals.
Every pet's nutritional needs are different, based on age, breed, health conditions and lifestyle factors—which can make choosing the right pet food complicated. For example, larger breed dogs have different nutritional needs than smaller breeds, and puppies and kittens should eat much differently than most adult dogs.
We can help you choose the best food for your pet based on his or her individual nutrition needs. Want to schedule a nutrition consultation for your furry family member? Call us at (480) 893-8423!