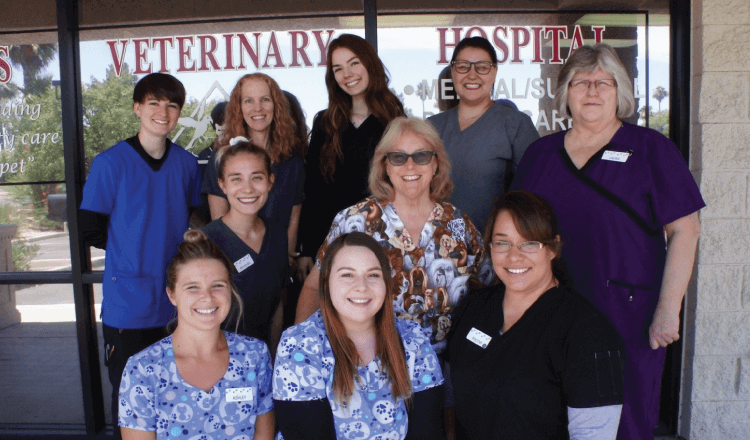 Our Doctors
Linda R. Elliott, DVM
Dr. Elliott was born in Cedar Rapids, IA and received her DVM degree in 1978 from Iowa State University in Ames, IA. The call of the West brought her to Arizona after graduation to work in a Mesa practice specializing in small animals. In 1979 Dr. Elliott opened her own practice in Mesa, then moved into  Ahwatukee Commons Veterinary Hospital in 1988. Dr. Elliott shares her east valley home with three dogs, one cat, 2 horses, a herd of 15 Alpaca and a flock of 40+ non-native exotic small birds. In her free time, she enjoys singing, kayaking, hiking, traveling the world, and blowing custom glass vessels.
Rebecca Housley, DVM
An Arizona native and the daughter of Dr. Elliott, Dr. Housley went into the "family business" after being around the veterinary field her whole life. She has bachelor's degrees in Biology and Nursing as well as being a Doctor of Veterinary Medicine. For her, being a veterinarian is a passion, and not just a profession.
Dr. Housley currently shares her home with two dogs, two cats, and a horse, although that will be changing in the future as she has recently become engaged! When she's not working, Dr. Housley enjoys hiking, travel, and hanging out at the lake.
Office Manager
Ashley W.
Ashley interned with us when she was studying to become a Certified Veterinary Technician back in 2010. After graduating she became a full-time staff member. Ashley moved to Tucson for a few years but moved back in 2016 to join the ACVH team once again. Ashley lives in Buckeye with her soon to be husband, one handsome cat named Tom, and a rambunctious Standard poodle named Cheyenne. She Ashley is also a native to the state of Arizona.  In her spare time, she loves camping, mule riding, off roading, and exploring all that our beautiful state of Arizona has to offer.
Client Service Representatives
Wendy
Wendy is from Port Lavaca, Texas which is quite evident when you hear her speak that southern drawl. Upon graduation from high school in Texas, she went to real estate school and acquired her license. She then moved to Arizona and acquired her real estate license here. Wendy decided that real estate was not for her and as a result we were lucky enough to have her join our team! She has three dogs: two chihuahuas and a Mexican hairless. Wendy loves the hairless dogs….and all the other hairless animals too! Wendy enjoys going to drive-in movies, bicycling, cooking, shopping and traveling. Wendy has moved back to Texas to be with her family, buy we are lucky enough to have her be able to answer the phones so you can still hear her southern drawl.
Jenna
Jenna is one of the several Arizona natives that we have. She came to us from the clothing industry. She enjoys hiking, DIY projects (woodworking), learning to play guitar and piano and especially hanging out with her spicy chihuahua/min pin mix, Prince. Jenna dreams of owning her own business and starting a family some day.
Angel 
Angel is one of our few non-Arizona natives! She is originally from Oregon but has lived in Arizona for several years. Angel enjoys spending time with her husband, her 2 teenage boys, her 4 dogs, 2 cats and her ferret! In her spare time she enjoys watching her boys play sports, camping, hiking, swimming and vacationing out of state in California, Idaho and Oregon. Angel loves working with animals of all shapes and sizes and we are happy to have her here as part of the ACVH team!
Veterinary Technicians
Jesse
Jesse is from Phoenix, Arizona he has lived in AZ his whole life. With his positive attitude and always ready to try something new he currently attends school for an associates degree in veterinary technology. When Jesse is not at ACVH or studying hard for school he is off playing music on his bass guitar for his horse and dog. Jesse also enjoy hiking and practice team roping. Be sure to say hello to him when you see him.
Galilea 
Galilea hails from Yuma, while she has not lived in Arizona her whole life. She has lived in 3 different states and 8 different towns all the while being blessed with years of experience in her passion, animals. She returned to the Grand Canyon state earlier this year where she found the ACVH team. Galilea not only enjoys painting, swimming, softball and off-roading she loves to meet new people and of course their pets! When she is not off on adventures and playing sports she is at home enjoying the company of her brown tabby Finn while she paints.
Amber
Amber grew up around animals and has been in the animal medical field for 10 years. Amber is also originally from Arizona however she briefly lived in California for a time before moving back to AZ in 2014 where she settled down in Tonopah, AZ. On her mini farm she has 3 horses, 4 mules, 2 cows, 2 dogs, 4 cats and 15 chickens all of which she loves dearly. In Amber's spare time she enjoys, hiking, kayaking, riding her mules, horse back riding, barrel racing and pole bending.
Katlyne
Katlyne is a native from northern AZ. She relocated from Prescott 4 years ago to continue her education. She plans on staying in the veterinary field wanting to help all critters (except perhaps those with 8 legs). In her spare time, she enjoys learning to play the piano and hanging out with her German Shepard, Sam.
Client Liaison
Willard
Willard was born in 2001 on a small farm here in the valley, so you can consider him a farm boy. One day Dr. Elliott was out doing her riding lesson and said "Hey, that's a really cool cat!" She took him home that day to become her lovable barn cat. Willard loves the great outdoors. His past times included sleeping on hay bales and getting love. Treats on-demand  are expected and boy can he demand! As Willard matured he was not the best barn cat; therefore Dr. Elliott decided to bring him to the clinic to bring joy to all her staff on a daily basis. Willard enjoys long naps on his plush bed, casual strolls around the treatment area, and FOOD.